It's never been more convenient to have your meals fully prepared and ready to cook!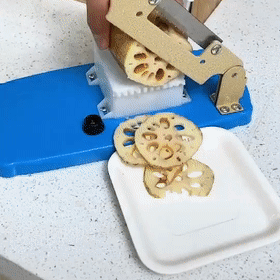 Spend less time preparing dinner ingredients and more time with your loved ones when using our Multi-Purpose Steel Food Slicer.  It's never been more convenient to have your meals fully prepared and ready to cook thanks to this handy food slicer!
No matter what you're chopping, this multi-purpose steel food slicer can cut through anything like butter. Industrial grade steel blades offer effortless slicing you can use for vegetables, fruits, and meats.
Say goodbye to sharpening knives and over-exerting yourself when trying to chop the toughest meats out there. If you're slicing ingredients for a family meal or a single portion, you can freely adjust the size of the slicer depending on what you're cutting.
Place a plate next to the slicer to catch everything that's sliced so your meat and veggies stay clean and sanitary. There's a bottom base attached to the slicer which prevents the blade from hitting your countertops. Now you can safely cut the ingredients of your meal without accidentally harming yourself in the process.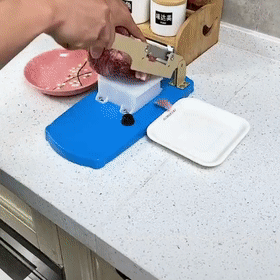 FEATURES:
Premium and High-quality Materials: Made of alloy steel, the base is made of environmentally friendly engineering plastics, the white tool pad is made of environmentally friendly food-grade plastic, and standard screws and nuts.
Great Tool and Money Saver: If you regularly buy pre-sliced meats at the supermarket, with this meat slicer you can buy, for example, a chunk of beef or lamb, then chill in the freezer for a few hours or so before slicing into thin slices. It works out about half the cost and you'll save a lot of money over a year, possibly even enough to pay for the machine.
Time-saving and Easy to Use: The versatile kitchen cutter cuts prep time in half, is easy to use and fast to prepare food, time-saving and efficient tool to help Mom in the kitchen, no cutting board needed.
Easy to Clean and Store:
The Multi-Functional Food Slicer is suitable for cutting fruits, vegetables, meats, rice cakes. All parts of these slicers can be easily disassembled for easy cleaning. Please scrape off any residue. Rinse, dry then store it.
SPECIFICATIONS:
Materials: Alloy steel
Product Weight: Net Weight: 525G
Package Weight: 566G
Product Size (L x W x H) 42 × 14 × 5cm / 16.5 × 5.5 × 2inch
PACKAGE INCLUDES:
1PC * Multi-Functional Food Slicer