Comfiness And Durability in One Magical Tight
All The Warmth and Coziness Of Fleece Leggings With The Style of Tights
Wearing skirts in chilly weather sounds pretty brave.
Not with us, our leggings still keep you warm in a cold down to -14°F!
 "An absolute must-have in every wardrobe!" – Cosmopolitan magazine
Note: Our tights are SUPER Stretchy, almost one size can fit all.
But for a better fit, we recommend ladies that wear XL or more to grab a Plus Size
Due to the enormous elasticity of our ProForm fabric, our pantyhose will not give way even under the greatest stress!
Fleece-Lined Interior For Maximum Comfort
Super Stretchy Fabric That Won't Tear
Durable and So-So Stretchy
Fleece-Lined for Maximum Comfort and Warmth
So Cute and So Warm.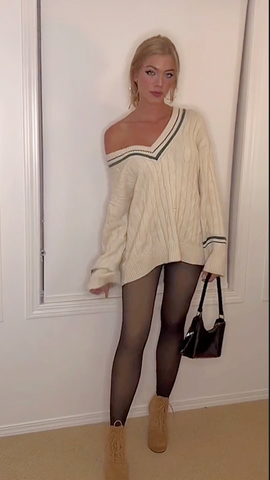 Size Guide
Our  Tights are incredibly stretchy, so we recommend sizing according to your weight.
Original Size: 88lbs-155lbs
Plus Size: 155lbs – 210lbs
Some Customer Reviews



⭐⭐⭐⭐⭐Penny Albert
I grabbed a plus size and it's fitting me perfectly! also never seen tights this warm, they're phenomenal
⭐⭐⭐⭐⭐ Jessie Hardy
The package was well received and I absolutely love these tights from BuyLovey. will order more!
⭐⭐⭐⭐⭐Kathy

They took a while to arrive but it's so worth the wait! I immediately tried on both pairs (black, tan) and was stunned by how warm and comfy these leggings are. They are long-leg friendly, and the fleece inside is SO soft. You can feel the quality! The ultimate test was to put on my favorite skirt and go outside in the 20°F weather. I have to say they're not like completely impenetrable from the cold but it does feel like you're wearing a nice comfy pair of thermals which is perfect. Also I love t…