This is how you can save time!
The Automatic Cup Washer, From baby bottles to wine glasses to travel glasses, it can easily flush almost any beverage, and glasswashers thoroughly flush the residue with high-pressure water jets in a few seconds. These sprayers can reach places you can't reach. You can reduce soaking and scrubbing time.
Features : 
 Easy To Use –  In most cases, cleaning can be done with tap water pressure. Place the cup's mouth downward and lightly press the cup's bottom to clean it automatically. Remove the cup and stop spraying water once it's been cleaned.  
  Multi-angle Water Outlet Cleaning Head
Powerful water realizes multi-angle spray hole washing jets thoroughly rinse residue in seconds, while the subtle overhang directs water flow into the kitchen sink for easy clean-up.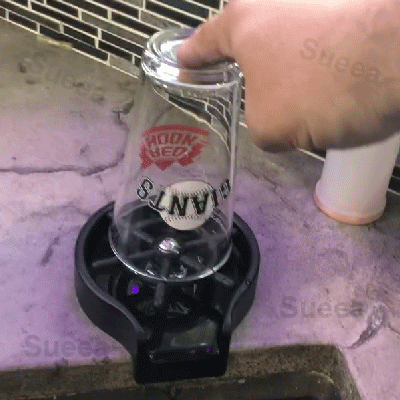 Easy Installation
The sleek, low-profile design coordinates with any faucet and can be easily installed in an empty, standard countertop hole. The required supply line (included) can be connected to either the hot or cold water supply line.
   Widely Used
It is widely used and a good helper for bar, public house, coffee shop, milk tea shop, restaurant, hotel and so on.
Specifications :
Dimension (H*W*D) : 17.5x 9x 1.2 cm / 6.9 x 3.6 x 0.5 inches
Material: Plastic
Product Weight : 860g / 1.9 lb
Color: Black